Silver Whinnys® (Sets of Four)
Sets of four are our most popular sellers by far. In most cases you will want to protect all four legs and the cost of buying sets of four will save you more than 20% off the cost of buying them in pairs.
Even if you only plan to use a pair at a time, the set of four allows you to clean one pair while you are using the other pair. Be sure to determine the
correct size
before ordering.
Learn more
about our Silver Whinnys®.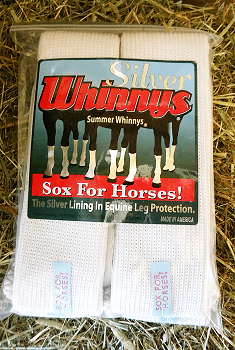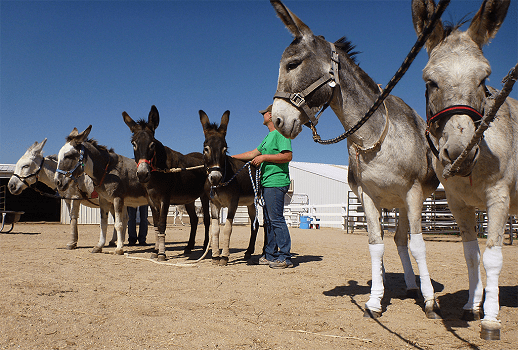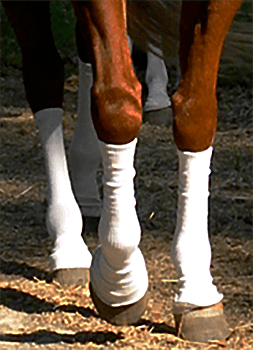 We offer a limited selection of our socks as pairs, however, sport pony, miniature, and standard donkey size socks are not available in pairs. If your horse has wounds or dermatitis on two legs, a pair will not do.

You should have at least a set (4) of socks so that there is a clean pair on and a clean pair ready. The socks must be changed every 24 hours until the wounds/dermatitis heals.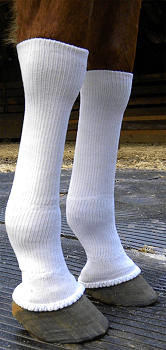 Silver Whinnys® (Short Socks)
Our short version socks are not good for horses in pasture or if the horse is often observed. They don't stay in place as well as the regular length socks but they are useful. The short version socks were created for a USET veterinarian who often treats horses for various conditions located on the top of the hoof, the pastern, and the fetlock (ankle). This short sock is ideal for protecting these certain conditions in this area of the leg.
Learn more
about our short version socks.