Case Profile

Ana, Owner K. Lindley, 7 y/o Gray Hanoverian Mare. Affected area is the left hind pastern.


Case Study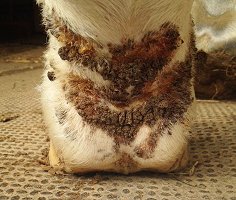 This is only my second summer owning Ana, she has no previous history. This year it started about 2 months ago and seemed to go from nothing to crazy in just a couple if days time.
Treatments have included...
Daily washing with Betadine Scrub followed by ....
Desitin
Wound Cream
Blue Kote
A&D Ointment
Vitamin E capsules opened and spread over surface
Swat ( both pink and clear)
Vetericyn spray
Vetericyn VET STRENGTH gel
We have tried to keep it covered with a tube sock or vet wrap. Bottom line, some things seemed to work but, only for a little while. It always comes back with a vengeance.
Going forward the owner used nothing but the Summer Whinnys®, changing them 1 x a day.
Ana Day 8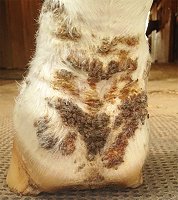 Ana Day 16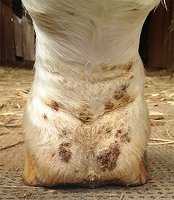 Ana Day 22 : Ana's mud fever was much deeper into the tissue than Isaak's and took longer to heal.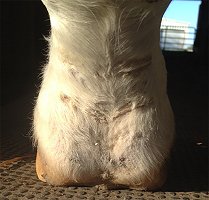 Ana Day 45 : Final Day to declare completely healed. 10/27/2014