Case Profile

She-Z, 27 y/o Quarter Horse. Owner: Britt L. California, Non-responding for 8 years.


Case Study
7/14/2015 Day 1 of the socks: Owner's Notes: "I just wanted to say thank you for coming out with this amazing product! I have a mare in my care who has suffered from a mysterious disease for 3 years and have tried everything! And every vet test possible to diagnose and came up with nothing. She was eventually diagnosed with Pemphygus, which is so rare there is no treatment. I decided to try your socks as I had tried everything else with no luck. These have transformed her leg in only 2 weeks!! I cannot believe my eyes. Every time I go to change the socks they look better and better!! I need a few more to keep up with the clean changes but so worth it! I will recommend these to everyone!! Here are some before and afters. Feel free to post these if you wish."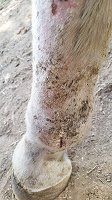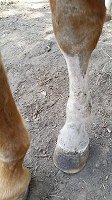 08/01/2015 Day 18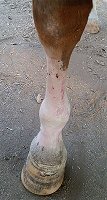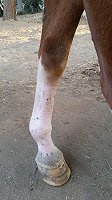 8/3/2015 Day 20: Owner's notes: She has a long way to go to full recovery, if she ever does fully recover. But she's so much more comfortable now then she was. The skin is so thin it bleeds from barely any touch at all. Now I've added bell boots to keep the bottom half over the coronary band I'm hoping that will heal up too. The disease is causing her hoof to grow irregular as well. This horse is also 27 years old and otherwise is in great health and is still ridden regularly still. Thinking of getting more to put in the first aid box for others. All photos were taken tonight after washing her legs. I do that once a week. I have never been able to see her coronary band till today.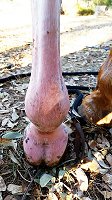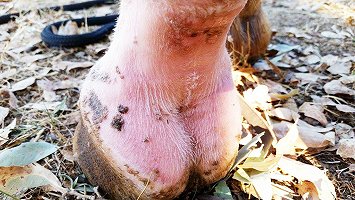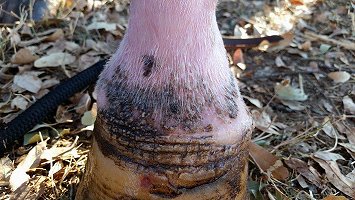 08/08/15, Day 25. On Aug 3rd, SFHs advised the owner to use duct tape to hold the "foot" of the sock to the front of the hoof to keep the tissue at the coronary band covered at all times. Here are the results. Photos submitted by the owner.