QUESTION #01 How can Silver Bells help my horse?

Silver Bells® Pastern Wraps separate your horse's pastern and top of the hoof from one of the primary causes of Equine Pastern Dermatitis – prolonged exposure to mud. When you can't change your horse's muddy environment, when battling dermatitis or trying to prevent EPD, the best thing you can do is protect the skin so that mudfever, greasy heel, wounds, and even summer sores can finally heal.


QUESTION #02 What does the Silver Whinnys lining do?
Silver inhibits the growth of bacteria and fungi in the lining material. It is a safe, non-toxic, drug-free bandage lining that obstructs disease-causing pathogens, mud and debris from penetrating the material helping to keep a clean, hygienic environment around the skin. Learn more about our
Silver Whinnys
QUESTION #03 Are these bell boots?

No. They are pastern wraps. If your horse suffers from Interference injuries, 'over-reaching: 'forging: 'brushing: 'grabbing: 'scalping: on the front or rear limbs respectively, remove the straps and put a bell boot over the wraps. If the wraps are left unprotected from Interference, just like the skin, they can be beaten up. If a horse that Interferes can destroy a heavy rubber bell boot, Interference can destroy wraps.Our goal was never to protect the pasterns from Interference. There are many bell boots on the market that accomplish that mission. The purpose of the Silver Bells is to protect the tissue of the pastern and top of the hoof from prolonged exposure to mud and debris, keeping the skin wrapped in a clean environment while the results of Interference; wounds, sores, or dermatitis heal.


QUESTION #04 What if the lining inside gets wet?

The Silver Whinnys lining of the wraps might get wet. We expect it in wet, muddy conditions. Your horse's skin will remain clean and free of mud and debris. Silver and water molecules attract (positive and negative ions). Water helps the silver become more active. Its' not a bad thing but you need to change/wash them daily when it is constantly muddy and wet and absolutely if dermatitis or wounds are present, you must change/wash them daily.


QUESTION #05 How often should I clean them?

We recommend that you change/wash the wraps daily, as there is constant exposure to mud, sand, debris and water. Keeping them clean helps them be an effective tool in pastern protection. The silver in the lining can be overwhelmed by the environmental bacteria/fungi after the first 24 hours so changing/cleaning them daily will also keep the silver at optimum microbe reduction in the lining of the wraps and wash out irritating debris that may have collected inside of them.When you are using the wraps for wound/sore/dermatitis protection, it is critical to change/wash the wraps every day. It's so much easier to change/clean the wraps than continue to deal with vet bills and the constant nursing of a horse that suffers from mud fever, greasy heal, or summer sores on the pasterns and this protocol regarding the use of our wraps will guide you to the greatest success using the Silver Bells Pastern Wraps to protect your horse.


QUESTION #06 How long can I keep them on my horse.

No longer than 24 hours without cleaning them. Observe and adjust as needed 2X a day. If you can't do this, then check 2X daily for a week, and only then, if confident you have the correct fit and all has gone well during the week, you can try to extend the time between inspections, but never over 24 hrs. without cleaning/changing them.Inspect them mornings and evenings to make sure your adjustments are not too tight. Bell boots are often the culprit of rubs and abrasions when not inspected. Checking twice a day is prudent and good horse-keeping practice with any horse-wear. Our soft interior lining is designed to avoid rubs but if wet and muddy wraps are left on without inspection, rubs could happen. Observe and adjust as needed 2X a day.


QUESTION #07 Can they turn on the hoof?

Yes, however we designed them so that if they rotated, the wraps would not go under the hooves and be destroyed. Hopefully you find the "just right" adjustment where they stay in the same place, but slogging through deep mud will challenge anything. If you have the correct size, they should not be able to go under the hoof. With proper adjustment, they should fit well and not move too much.


QUESTION #08 How do you wash them?

Silver Bells were made so that washing and drying the Silver Whinnys® lining can be done daily to preserve optimum microbe reduction in the silver embedded sock material. The antimicrobial qualities of the silver Sox lining is maintained by washing the wraps daily. They can worn over Silver Whinnys® Sox adding additional protection to the affected skin.

When you receive the wraps, the 'hook' (rough) Velcro® is covered with a white piece of 'loop' (soft) Velcro. Keep this piece of white 'loop' by your washing machine! Before you wash them, cover the 'hook' with the white 'loop' so that the 'hook' does not shred the lining inside during cleaning.

The straps are waterproof Biothane® with stainless steel buckles and should be pulled out of the wraps prior to washing. The straps can be rinsed off with a hose or in a bucket of water.

Do not use perfumed detergent, fabric softener, or bleach. Machine wash in warm water, dry medium heat.

Every few washings, waterproof the outside Ballistic Cordura® using TX Direct® waterproofing spray. After the wraps are washed, SPRAY THE EXTERIOR with TX Direct® and then dry. TX Direct® is a product by NIKWAX® and completely safe for dryers and your horse. DO NOT WATERPROOF THE INSIDE LINING.


How do I make sure I have the right size when I get them?

The first time you put them on, use a plastic bag over the hoof to make sure that the wraps do not get dirty while you check the fit. If they are still clean, you can return them for exchange if you need a larger or smaller size.


QUESTION #10 How do I put them on?

The wraps close with hook & loop to the side of the hooves. The buckles of the straps should also be on the side of the hoof. Adjust the straps to fit but not tight. Once you have adjusted the straps and know how much is needed, cut off any excess strap beyond the closest "keeper". Do not put on more than two in the first 24 hours. If your horse is good with the first two after 24 hours, then add another pair if needed.


QUESTION #11 What if my horse does not stand still when I work with him?

Do attempt to put Silver Bells or our Sox on a horse that will not allow you to safely handle its legs. We are not responsible for accidents or injuries due to failure to follow the instructions.


QUESTION #12 Will the buckles stand up to wear?
Yes. They are durable, but like the buckles used on jump boots by the hunter riders, buckles should be protected. Once you have completed buckling the straps, put VetWrap® around them so that the tongue cannot catch on anything in the field. Leave finger tabs so that the tape can be easily removed.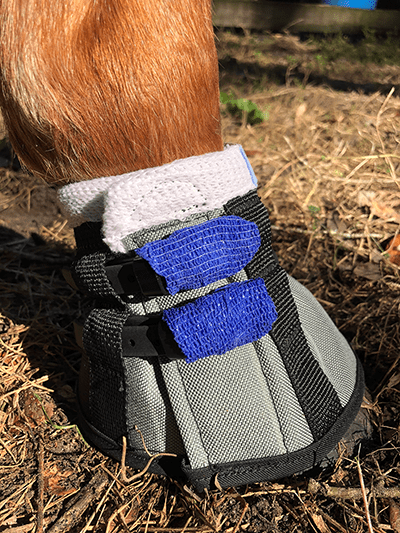 QUESTION #13 Are replacement straps available?
Yes. See our
Buy Now Silver Bells
page. And if you have any other questions about our Silver Whinnys or Silver Bells, Contact us. 850-907-5724 or by email at info@soxforhorses.com
QUESTION #14 What is your Refund or Exchange policy?

REFUNDS/EXCHANGES We guarantee our products to be 100% free of manufacturing defects. We do not guarantee against damage caused by a horse, misuse or failure to follow the instructions. We believe we have made them very horse worthy. Every aspect has been carefully considered. When you first put them on to insure fit, use a plastic bag over the hoof so that the Wraps do not get dirty. If you need a different size and the wraps have not gotten dirty, we can exchange them. Call us, let us know what you need. You would pay the return shipping and the shipping of a different size back to you. REPORT ANY MANUFACTURING DEFECTS WITHIN 48 HOURS FOR REPLACEMENT.

Refunds: We do not refund for reasons of damage that an equine caused. However, if the damage can be repaired, we offer a program where you can send them back and we will fix them for a nominal fee. The program has a minimum $30.00 per pair fee and up to $50 depending on how sever the damage. You would pay shipping both ways. You can return unused wraps for a 100% refund, minus shipping within 30 days.

Call us at 850-907-5724 or e-mail to info@soxforhorses.com if you have any difficulties. Include your phone number when emailing or calling.