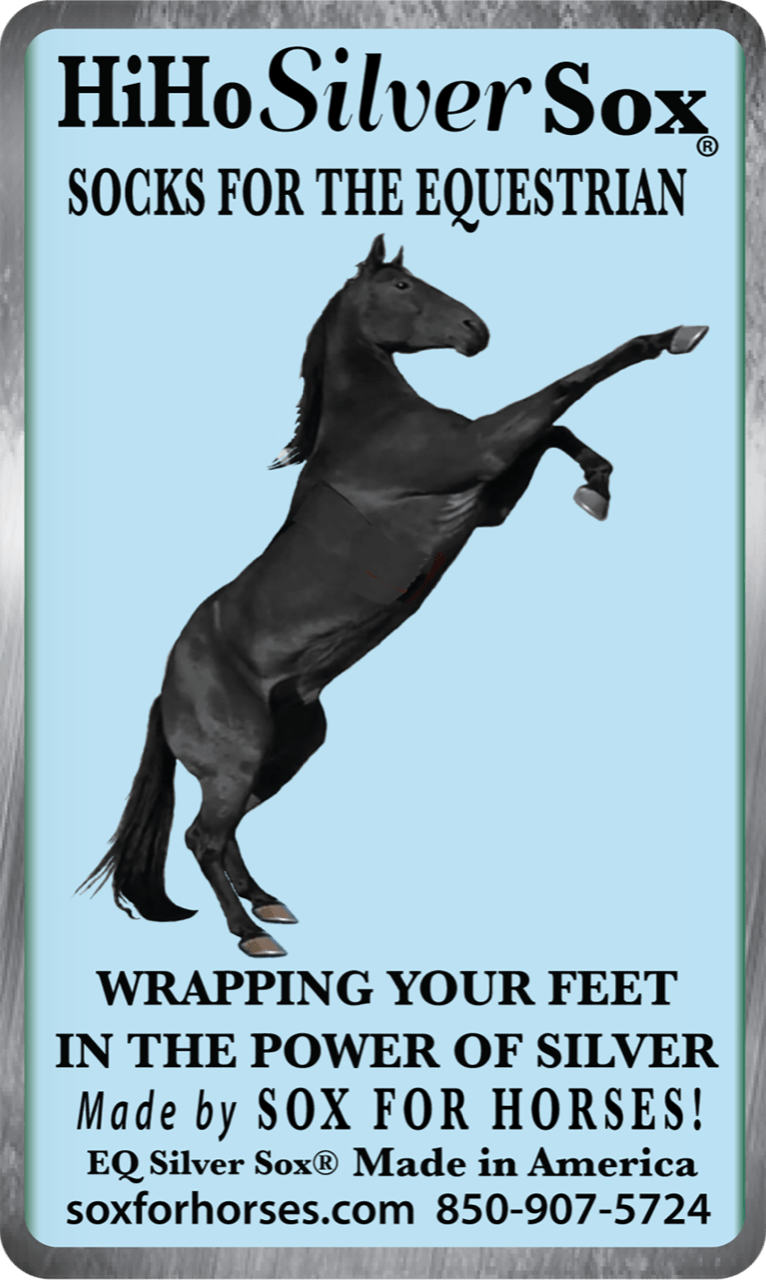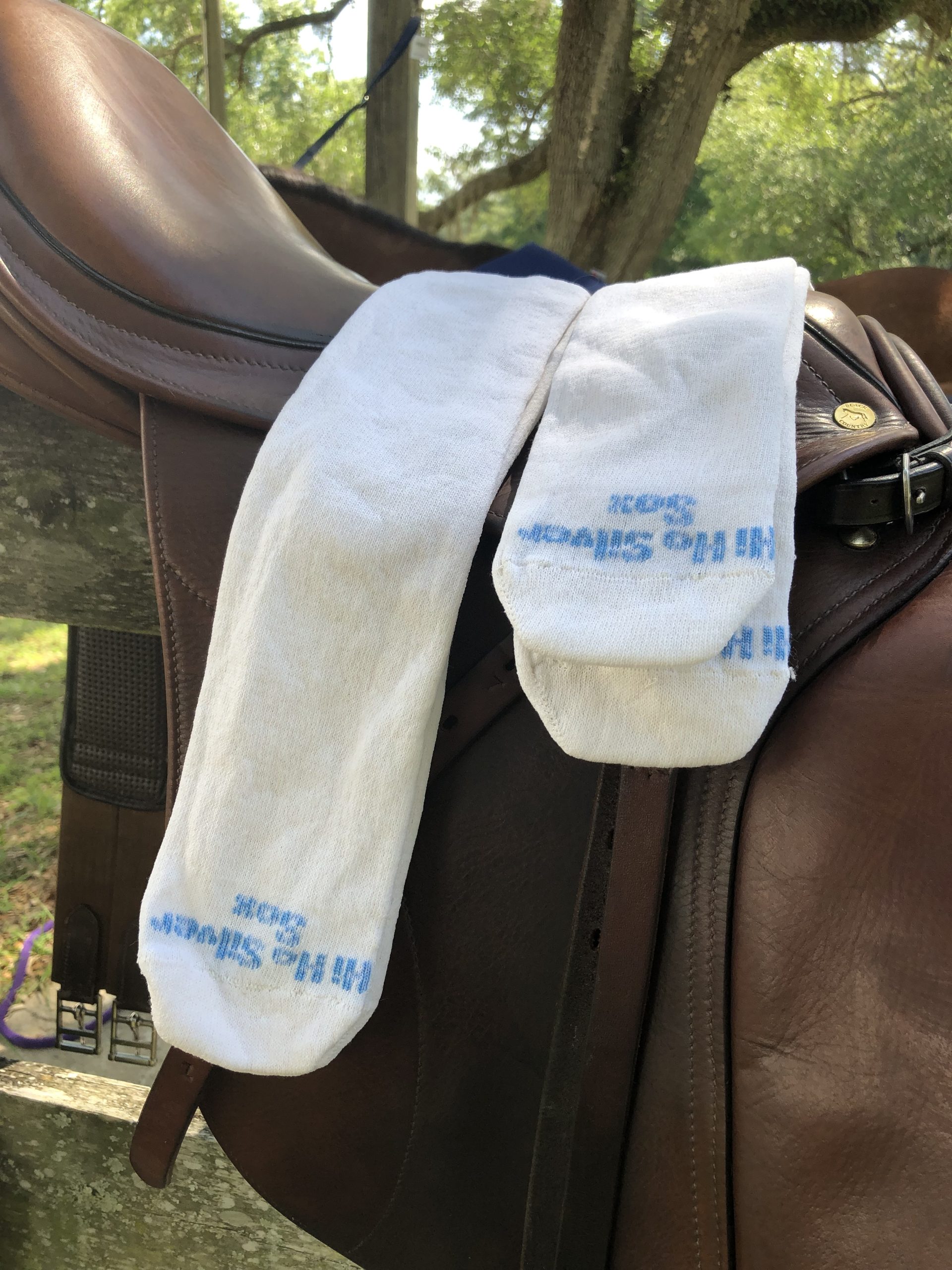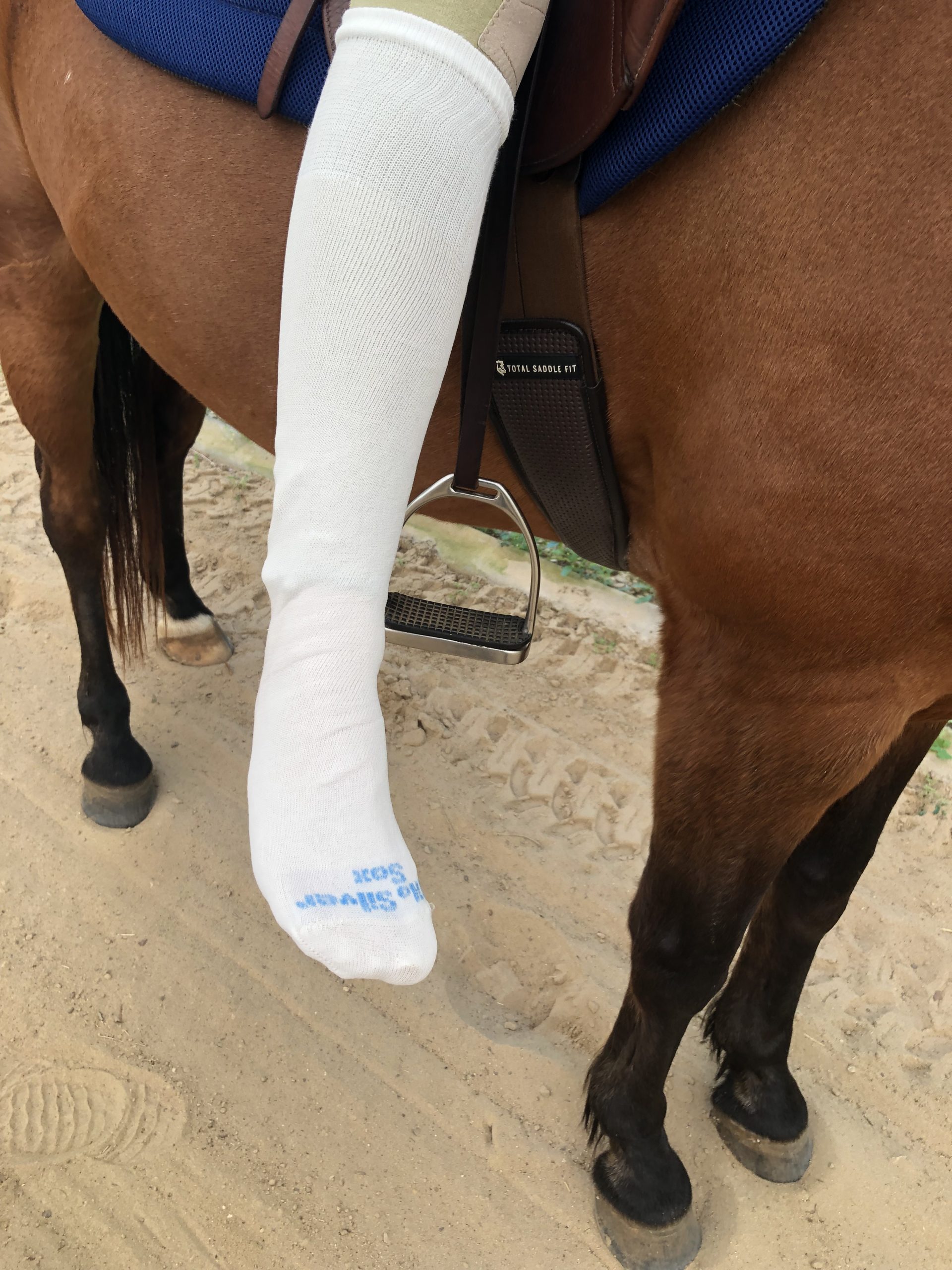 WRAPPING YOUR OWN FEET IN THE POWER OF SILVER
Why shouldn't you have silver on your own legs too? HiHo Silver Sox® are "over the calf" boot socks meant to feel good on your feet, toes and legs in your choice of riding or barn boots.

HiHo Silver boot socks are made with a softer version of the same remarkable wicking silver yarn as our Silver Whinnys®. Soft plush terry surrounds hard working feet and calves with all day comfort. Silver is natures antimicrobial and inhibits mold, mildew and odors in the socks. These wonderful socks are made with the same remarkable wicking silver yarn as our Silver Whinnys®. Moisture wicking yarn helps keep feet dry while silver seriously inhibits the odor-causing bacteria and mildew in the socks. Feet are dry, cool, and clean all day long. Our socks are made to fit nearly every foot and leg.

HiHo Silver Sox are made to fit nearly every leg and foot from skinny to full figure. We've not yet found a leg they will not fit and we've had some wonderful full-figured ladies and some skinny legged women put them to the test. The way you measure for fit is to using a measuring tape, beginning on the bottom of your foot, running from the tip of the big toe to the top of the inside of your calf, just under the knee. If you have large feet and long legs, choose the longer size sock. If you have wide calves, choose the longer sock. If you have small feet and shorter normal to skinny legs, choose the shorter length socks.

The silver will not wash out or weaken for the life of the socks. Machine wash and dry at any temperature. No bleach or fabric softener. Read more about silver as it is used in our sock bandaging for equine Silver Whinnys® Also, check out testimonials of people who have used our socks on their horses to help them protect injuries and dermatitis issues on their animal's legs. Sox For Horses, Inc. makes no claims that our socks will heal, prevent or cure any conditions on equine or people's legs. They do not contain any drugs.

Did you know that:

Silver also carries the unique property of having the highest thermal and electrical conductivity of all metals?

For those of you that are aware of the qualities of copper coils, did you know that a sock knitting machine knits in one continuous coil of stitches? That means HiHo Silver Sox are coils of silver on your legs, toes and feet. For those using Electraculture in your gardens, you would be familiar with copper wire coiled on posts driven into the soil to help plants grow. Our plants love the effect created by our copper wrapped poles. We can't say for sure why our HiHo Silver Sox feel so good on our legs and feet. We do know that if our horses and donkey wear silver, we certainly want some of that for our own legs and feet.

Silver's antimicrobial properties have been utilized for thousands of years, long before the discovery of microbial organisms. Silver containers and coins were known to prevent spoilage of liquids and water when transported over great distances and for long periods of time. Today, a silver coating prevents bacterial build-up in carbon-based water filters, while silver ions in water purification systems carry oxygen that oxidizes and kills microbes. Silver-copper ions can even replace corrosive chlorine to sanitize pools and tanks. Silver is being used today in hospital air filtration systems, hospital surgical garments, hospital curtains and if no one has thought to put silver in surgical masks, someone needs to do it.